---
We keep developing higher-value-added products in order to meet our customers' need.
1.Oscillating Diffusion Nozzle with A Spray Angle Adjustment Function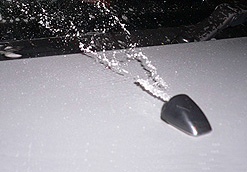 Patent pending
This type of diffusing nozzles can emit a jet of washing fluid widely.
It has a self-oscillation chip inside, and washing fluid is emitted as it's oscillating right and left. Therefore, diameter of sprayed particles is large, and hardly affected by wind even while drives on high-way.
The spray direction (angle) can be adjusted both vertically and horizontally.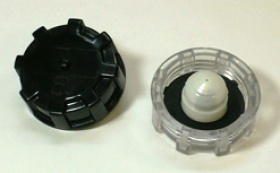 This newly developed cap prevents leakage when the container is tilted or turned upside down since ventilation structure works when it's put back to right position.

This is an environment-friendly cap without leakage and it's applied to fuel tanks of small-scale constructured machines.